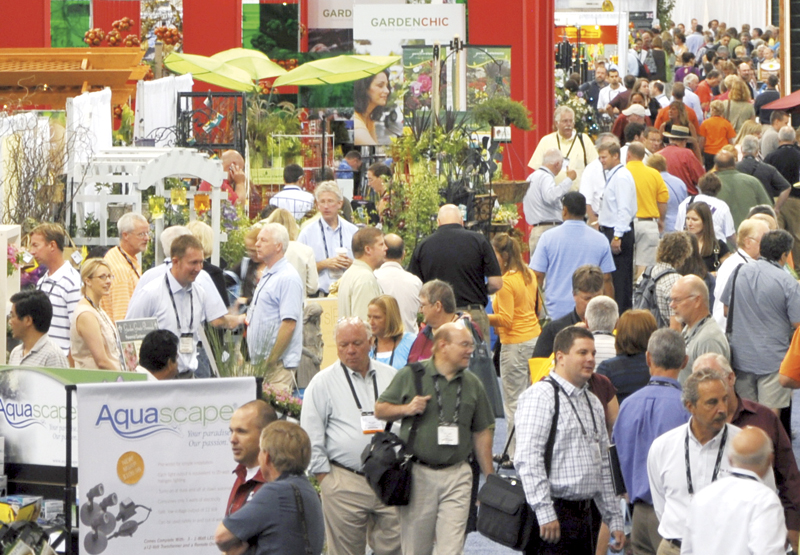 Face-to-face marketing works.  It's a valuable tool in the arsenal for growing your business, and it's relevant to both B2B and B2C marketers.   However, a lot of extra value can be derived from your trade show program, beyond the common main goal of attracting prospects and leads.
Yes, your exhibit will generate invaluable brand awareness and foster memorable connections to leads and potential clients.  But, your exhibit can also influence your business and industry in numerous other ways.   Think beyond prospects to derive benefit from many groups of people at your trade show.
Who can you impact with a great trade show?
Prospects:
Of course, you're hoping to generate leads and sales with your show.  Brand awareness and impressions can be hard to measure, but they are the starting point to any conversion.   Immersing show attendees in your brand experience  by involving their senses creates a memorable connection.  Trade show prospects create higher value connections, compared to anonymous online interactions.  The attendee experience should always be the most important consideration driving your exhibit strategy. 
Customers:
Deepening relationships with and gathering feedback from existing clients is a great outcome of trade show presence. 
To enhance relationships, consider an in-booth soft release of a new product, or offer a sneak peek of a prototype to loyal established clients in a partitioned VIP area.  You'll generate actionable feedback, giving you time to fine-tune the launch tactics or even the product itself.   
Provide an interaction with your brand that is more than product use.  Various experiential technology activities can be designed with different tracks for prospects and customers.
Client evangelists talking with your booth staff are often overheard by prospects, providing an authentic and non-intrusive native referral.  Consider pre-scheduling meetings with existing clients throughout the show, so that there is always someone willing to speak highly of your brand within earshot of prospects.  
When you have clients in your booth, create a VIP experience or offer special exclusive "swag" for these existing clients to elevate the experience and show your appreciation.   
Competitors:
Trade shows offer a gold mine of competitive intelligence!  The show floor is an excellent place to review competitors' product offerings, market approach and launch strategies.  It's also a great opportunity to feature your brand's competitive differentiators to stand out and above your competitors.  They'll likely be observing your exhibit, too, so make it one to remember!
The Industry and Market:
The reality is that every participant benefits from a trade show.  As market participants display their newest innovations and product enhancements, the entire industry is propelled forward by these improvements, new technologies and additional value streams.  Meanwhile, presentations and seminars showcase the latest trends, offered by the best and brightest thought leaders.  This cumulative knowledge inspires and continues, so that every trade show raises the industry's proverbial bar a little higher, to the benefit of everyone involved in the industry.
Employees:
There are myriad ways your own workforce can generate immense benefit from your trade show program, to add even more value. 
Trade shows and conferences offer a wealth of valuable training experience for employees and even interns. 
Some organizations offer trade show attendance as an incentive reward for high performers, especially those who may not normally attend a show.  Allowing these people to represent your brand offers the authenticity of people most familiar with the brand and products, while providing them with unique training opportunities.
Networking opportunities abound, which can ultimately elevate your employees' status in the industry. 
Often skilled job-seekers attend trade shows looking for new opportunities in their industry.  The show floor could expose your brand to talented persons already knowledgeable about your industry and target markets.
Many educational opportunities are offered in conjunction with industry conferences and shows, sometimes even required CEU courses that your employees need.  Encouraging show attendees to complete training programs saves travel costs over sending employees to individual training programs.
Remote employees get valuable face-to-face connections with coworkers they don't often physically see.  There are many such benefits described in this article.
General Connections:
Not everyone exhibiting at a trade show is your competitor, and several valuable connections can be made with other exhibitors or attendees.  Your supply chain can benefit from access to alternate sources for components, resellers to expand your sales channel, logistics providers versed in your industry, or partners for new ventures.   Connections can be made with government officials and leaders of industry advocacy associations.  It's even possible to find acquisition targets, overseas partners or contract manufacturers among trade show exhibitors and attendees.
Extended Audience:
By integrating a solid social media strategy, the influence of your exhibit program can reach people who don't even attend the show!  You can easily extend your reach by creating virtual versions of show floor activities so that your brand experience is delivered to those who did not travel to the show.  When you encourage registration for these activities, you can capture valuable data, just as you would on the show floor.
Keeping these extended benefits in mind can help make your case during budgeting and approval exercises.  The team here at Acer can help address these objectives within your exhibit strategy.