An attractive, well-designed exhibit is only the first step in generating return on your tradeshow investment. One of the most crucial factors in converting sales after the show stems from the engagement and personal attention show attendees experience while in your exhibit. Consider the personal aspect of your trade show exhibit: your booth staff.
Brand ambassadors – the booth staff in a trade show situation – are extremely important. These are the people representing the brand to potentially thousands of show attendees, so they must be chosen and trained with care in order to most effectively engage the audience. Some companies even require employee tryouts to snag a spot on the show floor! Sadly, ensuring that brand ambassadors are prepped and ready for booth duty is a step many companies tend to skip. Skilled brand ambassadors can be crucial to the qualification and conversion of show leads.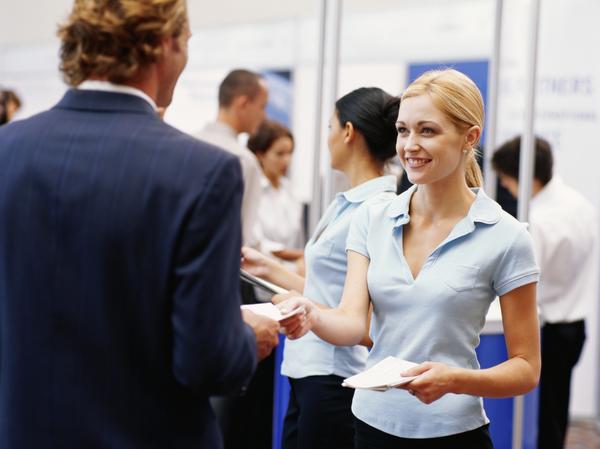 Exhibit staff should be comfortable and ready to interact with show attendees in all phases of the traditional sales/marketing funnel.  Brand ambassadors will introduce the basic brand promise, explain product/service features and options, quote price points, answer technical and sales questions and converse on almost everything else imaginable… while at the same time assessing the lead for conversion potential.  This is a tall order, and some employees may not be naturally inclined to function in this way. 
There are three basic options to give the people in your exhibit the most confidence and highest probability for success:
At a minimum, develop an engagement outline for your staff ahead of the show. Provide them with key brand and product points, and integrate these tradeshow engagement tips and this guide on how to qualify sales leads at the show.   
Personalized, on-site professional engagement training is available to really prepare your staffers.  This format involves training and demonstration by an engagement industry professional who provides your employees an in-depth understanding of what to expect on the trade show floor.  This gives your staff an extra edge – and confidence – while offering the authenticity of people most familiar with the brand and products.  
Consider supplementing your employee team with professional engagers. This option is particularly helpful if your own staff is a little weak in pulling attendees into your booth, or if the costs of getting your entire team to the show consume too much of your budget. These professionals are available locally to increase conversion rates by qualifying leads on the show floor.  EXHIBITOR magazine explores the ways you can put temporary help to work in your exhibit.   
No matter if your booth staff is culled from the ranks of your own employees, a panel of professional engagers, or a mix of the two… it is critical to prepare a list of additional contacts who can assist with deeper questions when needed.  Brand ambassadors don't need to know every single thing, but they do need to know where to get any piece of information requested.  It's far better to refer a contact to a subject matter expert than to give uncertain answers on the show floor! 
As a trade show exhibitor, you've already committed funds to creating an attractive trade show presence.  Be sure you are doing everything possible to generate the highest possible return on that investment by giving careful attention to the staffing of your exhibit.  Acer Exhibits can offer assistance in this area, if needed!