Experiential marketing is the term for creating an interactive platform which engages more deeply than the physical environment of the trade show exhibit. It's about creating memorable connections to the brand.
This form of marketing goes by many names, some misnomers.  Engagement marketing, face-to-face marketing, F2F marketing, live marketing, participation marketing, experience marketing, and event marketing are all general aliases, although there are nuances by which all technically differ.  The exhibits industry, however, has generally settled around the term 'experiential marketing' as evidenced by the name change of the leading industry association from the Exhibit Designers and Producers Association (EDPA) to the Experiential Designers and Producers Associations (still EDPA).
Experiential marketing is not new.  Not at all.  Product sampling is, at its core, a form of experiential marketing which goes back hundreds of years to enthusiastic entrepreneurs selling tonics, lotions and soap from wagons.  These proprietors realized that they could talk all they wanted about their product, but sales accelerated once people tried it – experienced it – and results improved dramatically if the sample was free.  Research into the psychology and effectiveness of sampling programs is plentiful.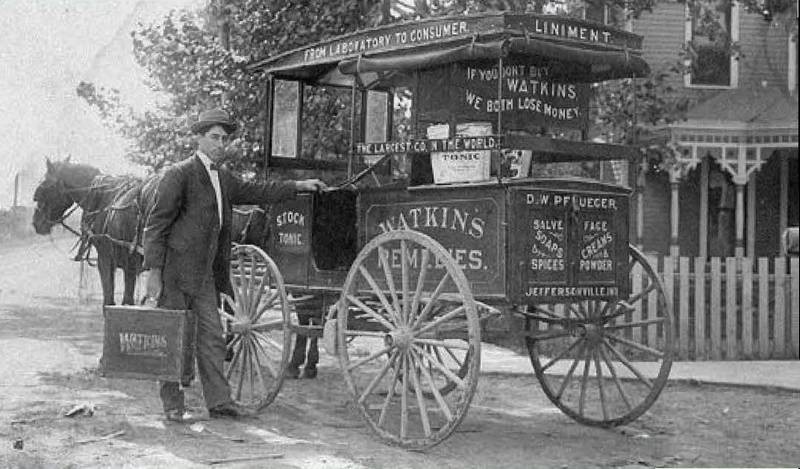 (Photo credit:  McHenry County IL Historical Society)
As the discipline of marketing evolved, so did experiential tactics.  Experiential marketing grew significantly on trade show floors.  Early interactions were often gimmicky, and geared toward attracting watchers rather than communicating brand.  Recently, Exhibit City News featured the work of Fred Kitzing, an early adopter of these flashy types of engagement who initially worked with magicians and the like.  He quickly realized that the attraction was more effective when it conveyed brand or product attributes, and began to incorporate messaging and product demonstration into the 'show' to further resonate with the audience.  Thus, experiential marketing was born.
And, of course it evolved.  EXHIBITOR Magazine offers periodic glimpses into the history of experiential marketing, like this 1960's exhibit from the Atomic Energy Commission.
Experiential marketing is still very much a part of the trade show experience, but it has also grown separately as its own form of marketing; stand-alone activations are quite commonplace today.  Cigarette companies were a driving force behind the growth of standalone experiential marketing programs, as they sought to reach the market while increasingly rigid legislation restricted their access to consumers via traditional vehicles like billboards, magazines, and television.  The Marlboro brand from Phillip Morris offers a fascinating case study into this evolution.  Ultimately, Marlboro shifted their marketing focus – and dollars – away from wide-reaching campaigns to center on known, registered product consumers.  Marlboro offers unique and sometimes extravagant brand experiences to members of its opted-in community.  In fact, Marlboro built an entire 'ghost town' in Montana by relocating historic buildings and artifacts to allow invited guests to become fully, completely and totally immersed in the Marlboro brand while on vacation at the Marlboro Ranch.   
 (Photo credit:  Wendi Jacobs)
Experiential marketing programs needn't be so extravagant.  They can be low-tech and person-to-person… the experience of the brand and the retention it generates are the end result.  Hubspot curated an excellent list of eight stellar examples of experiential marketing done right, and then took it another step further with a set of tips on experiential marketing.  
Another excellent low-tech example of brand experience was crafted by ROCKWOOL, where they used a well-known drummer to demonstrate the sound-dampening properties of their insulation.  During the video demonstration, the attention the drummer draws is obvious, and the success of the product performance is evident.  Attendees on the show floor will not soon forget that exhibit.
On the trade show floor today, experiential marketing is often high-tech.  In these situations, the technology facilitates the capture of marketing or behavioral data while simultaneously providing brand immersion via education or entertainment to the attendee.  Examples of this include augmented reality (AR), virtual reality (VR), gamification, customized apps, check-in technology, social aggregation, and more.  Marketers often find the advantage of simultaneous data capture and entertainment/education to be a valuable tool in their quest to create brand impressions.
(Photo credit: Pexels)
Whether the tool for engaging your audience is high- or low-tech, the most important considerations are how well it connects to your brand, and the brand impression/recall it generates with your audience members.